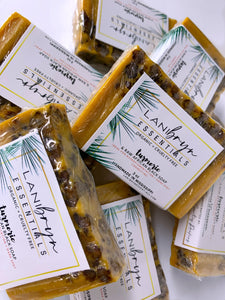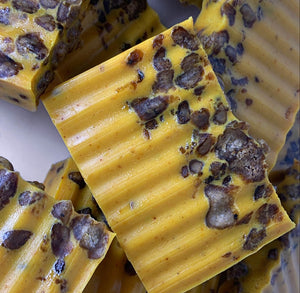 Turmeric + Raw African Black Soap
Regular price
Sale price
$4.25
---
L A N I . B R Y N . E D I T I O N .
Turmeric + Raw African Black Soap
handcrafted in the heart of Ghana + a taste of USA.
____________________
If you're familiar with our Raw African Black Soap w/ Goat's Milk bar, then you know I literally STAN for African Black Soap! This time around, we're incorporating TURMERIC -- especially since turmeric literally has "anti-everything" effects! Because they both have such amazing benefits, I HAD to figure out a way to incorporate both of them into my daily skincare routine without doing the absolute most. I can honestly say that this facial bar is

definitely a step up

from the normal turmeric bars. It's made specifically to reduce acne + lighten dark scars, all while enhancing your skins complexion & helping you GLOW from the inside out.

I definitely recommend this bar 100%

BUT If your skin is extremely sensitive, this one may not be for you. Consider starting with our regular Turmeric Brightening Bar.
BENEFITS:
suitable for dry + oily skin | anti-inflammatory, anti-bacterial | soothes eczema, psoriasis & helps clear rashes | helps fight pimples + acne | reduces fine lines | natural exfoliant | minimizes hyperpigmentation caused by acne scars
 | brightens skin complexion | 
keeps skin supple & improve the skins elasticity
__________
HOW TO USE:
real, unprocessed African Black Soap has a rough texture and is different from your everyday bar of soap. It's crumbly in texture, so use it by breaking off a small piece & adding a little water until it lathers in the palm of your hands. Be GENTLE when rubbing face because it's an exfoliant in itself. I personally let this soap sit for about 5 minutes. If irritation occurs, no need to leave soap to sit. Rinse & follow up with Saving Face or Golden Glow serum. 

Patch test before using on entire face.
___________
- RAW African Black soap may burn or irritate skin when first using. Consider using it every 3-5 days until your skin adjusts, then use daily.
- IF you experience acne breakouts, remember it will only be temporary. If you notice your skin reacting negatively to the soap, it's likely doing it's job of bringing toxins and impurities to the surface. You're now on the way to clear skin!
Would recommend slicing off a piece and storing the rest until you are ready for more.
INGREDIENTS:
Shea Butter, Glycerin, Shea Tree Bark Ash, Cocoa Butter, Cocoa Pods Ash, Plantain Ash, Coconut Oil, Palm Oil, Palm Kernel Oil, Lauric Acid, Aqua (water), Organic Goat's Milk Powder, Titanium Dioxide, Organic Black Castor Oil, Organic Turmeric Powder, Turmeric Essential Oil
*IF PREGNANT, CONSULT WITH DOCTOR BEFORE USING ESSENTIAL OILS.