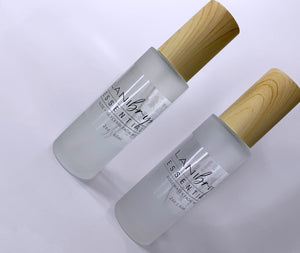 Facial Toning Mist
Regular price
Sale price
$16.00
---
2 oz | 60 ml
HYDRATE. REFRESH. BALANCE.
witness your skin flourish with our Rosewater Toning Mist or Aloe + Glycerin Mist!
Not only are the facial mists extremely refreshing & hydrating, but they serve as a great addition to your skincare routine! If you've ever wanted to achieve the "wet look," this is how! Our toning mist will leave you glowing and moisturized! Using them as a facial toner works to reduce discoloration, soothe and reduce the appearance of puffy eyes, tighten stubborn pores, and balance and restore the skin's pH level.
______________
ROSEWATER BENEFITS: 
suitable for any skin type, especially dry & sensitive | anti-inflammatory | soothes skin irritation |
improve
and brighten skin's complexion | anti-bacterial properties help reduce acne
ALOE + GLYCERIN BENEFITS: suitable for any skin type | formulated to help soothe, hydrate & balance skin tone and texture | includes cleansing tea tree essential oil to assist troubled complexions
Our facial mist can be used right before applying makeup for the dewy & flawless affect or right after applying makeup! However, the BEST feeling is when it's applied to a fresh face!
perfect for AM or PM but can also be used throughout the day.
Mist can be used after cleansing and before moisturizing OR after your makeup is set OR throughout the day as a quick pick me up!
You've saved your previous bottles, but now you need a REFILL? We've got you covered! All refills will come in 2 oz plastic bottles.
___________________________________
DIRECTIONS:
Spray onto face & neck area - may refresh throughout the day if need be. Avoid contact with eyes. If using as a toner, 

pour a small amount of rosewater onto a cotton pad and dab around face.
_______________
ROSEWATER INGREDIENTS:
Organic Aloe Leaf Juice, Rose Floral Water, Glycerin, Phenoxyethanol, Tetrasodium Glutamate Diacetate