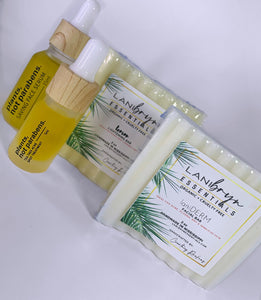 Essentials Bundle
Regular price
Sale price
$43.00
---
1/2oz | 15ml
____________________
ATTN: You now have the option to choose which serum you'd like with your bundle.

Saving Face

, our best seller, is geared towards

acne + breakouts

 (does help w/ dark spots as well but that's not the main focal point). 

Golden Glow

is specifically for

dark spots + skin lightening

 (not geared as much towards breakouts).
the Essentials bundle.
Saving Face serum | laniDERM facial bar | lemon dark spot bar | tea tree acne spot treatment sample
____________________
reasons you may be viewing this skincare bundle:
1. you are struggling with active or random breakouts
2. your breakouts continue to leave unwanted dark spots on your skin
3. honestly, dark spots in general!
4. you've tried lots of products, but nothing seems to work (we've all been there)
5. you may be looking for an alternative to mainstream skincare
6. the founder sent you here!
____________________
BENEFITS:
laniDERM FACIAL BAR: great for dry/sensitive skin, acne, eczema, psoriasis, breakouts
SAVING FACE SERUM: designed specifically to prevent acne, rids pigmentation + brighten & even the skin tone
TEA TREE SPOT TREATMENT: fights cystic & hormonal acne, active breakouts & acne scars
LEMON LIGHTENING BAR: lemon is a natural detoxifier which aids in clearing pimples & acne | brightens skin complexion - advised to use on the affected areas nightly | lemon oil is photosensitive & being directly exposed to the sun could worsen the hyperpigmentation
DIRECTIONS:
cleanse with the laniDERM facial bar in the morning & lemon bar at night.
apply small amount of acne spot treatment to desired areas & allow to settle for a few minutes.
apply one drop of Saving Face or Golden Glow to forehead, left & right cheek after face cleansing with lemon or laniDERM bar | may use morning and nightly.
See full ingredients listed on each individual product.
*IF PREGNANT, CONSULT WITH A DOCTOR BEFORE USING ESSENTIAL OILS.